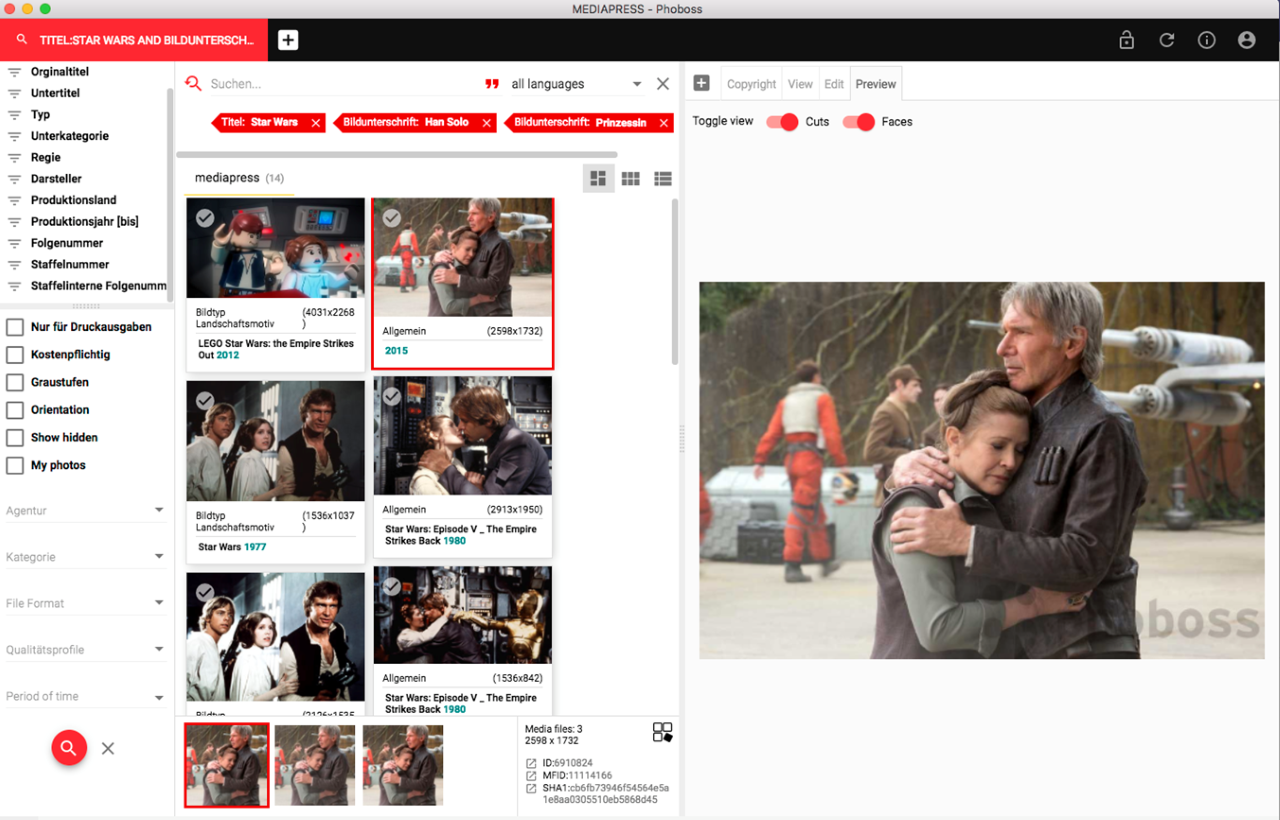 08 Nov

Phoboss – Digital Asset Management

As an editor, you need to think about how to improve publishing production workflows – no matter whether you work in print, on the web or in any other medium. You will value all that HUBERT offers with its Digital Asset Management tool PHOBOSS.

Combined with FRED (our dedicated Content Management System), HUBERT DAM PHOBOSS is ideally placed to serve all your graphic image needs and will help your company to keep pace with the ever- increasing number of digital assets in your photo library. All images are stored in one place (either via cloud or in-house), are appropriately sorted, are replete with detailed metadata, and are therefore easy to locate and easy to manage. As metadata-rich files, images are readily linked to whichever piece of editorial copy you are working on. As a web-based solution, PHOBOSS allows you work from any location and the convenient user/group system enables you to assign dedicated tasks and rights to your teams.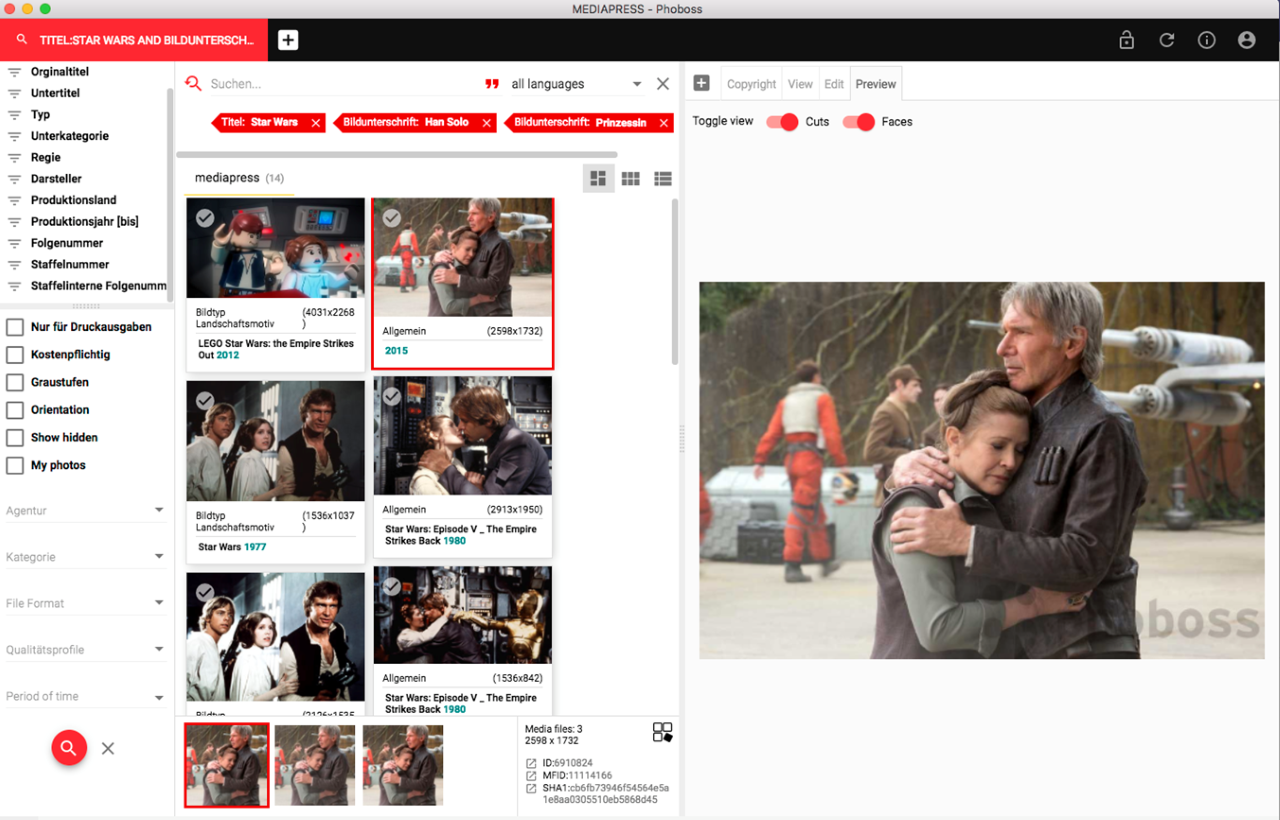 Auto-cropping
The next section explains how the AI components of PHOBOSS enhance the quality of the metadata attached to pictures processed in the system. Persons and objects are detected, as are their respective positions in the image. This makes it so much simpler to locate a photo of any given person in any requested setting. You want a picture of Forest Whittaker on a motorcycle, or Tom Cruise on a speed boat? PHOBOSS will find it for you. Furthermore, PHOBOSS will apply auto-cropping to the image. Alternatively, you may wish for a more dynamic or dramatic layout. PHOBOSS will perform a selective cut-out of a person's profile. It can do the same with any recognizable object automatically. What is even better, it can do so "on the fly".
PHOBOSS can also work as an editorial assistant. The program's powerful facial recognition capabilities compare results with metadata listing cast and crew credit details associated with the relevant movie or television series, and automatically generates the information for the picture caption. This way, you can enhance the quality of your picture stock day-by-day, just by letting PHOBOSS do the metadata harvesting. Your image archive is enhanced each and every time you process a picture or import a new one.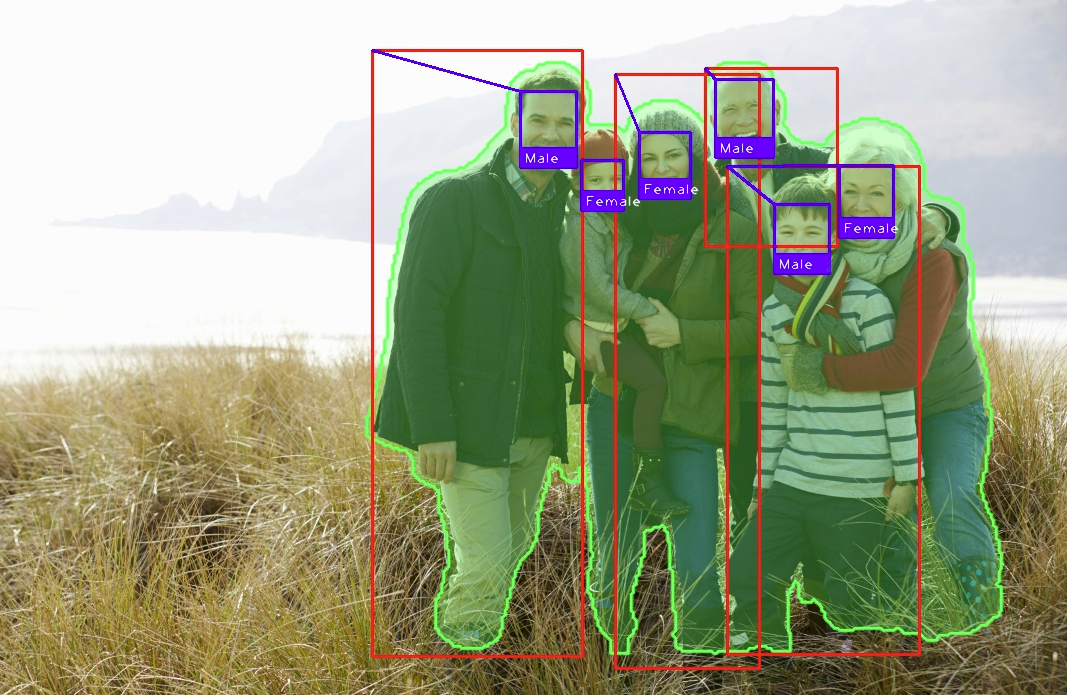 Tracking your habits
And while we are talking about efficient workflows, automation can do much for the editor. Let PHOBOSS suggest which pictures to select for the Prime Time programmes for each TV channel for the day in question. PHOBOSS keeps track of which pictures were used in previous editions of the TV guide. We do not want to present readers with identical images each time a regular show airs.
Critically, if certain images are restricted in copyright terms, PHOBOSS will ensure these pictures are not available. This important restriction applies even if someone has uploaded an identical image from another source. Perhaps you work for a top-class magazine requiring high quality pictures. PHOBOSS will filter results that meet all defined selection criteria. Not everything can be automated. But if you need to create a filter rule, you simply link pictures to any asset you desire. This can be done temporarily, as a one-off event, or permanently – within your chosen work area. With its smart asset browser, PHOBOSS enables an editor to keep an overview and achieve the best image search results. As we have seen, the metadata attached to each image allows for a full text search of the picture library. But PHOBOSS also provides for a contextual search which can be narrowed or expanded as necessary in order to locate a precise image rather than a 'stock' promotional file. The task of locating a particular action shot of the actor Harrison Ford together with co-star Carrie Fisher in your extensive picture archive is not as problematic as once it was.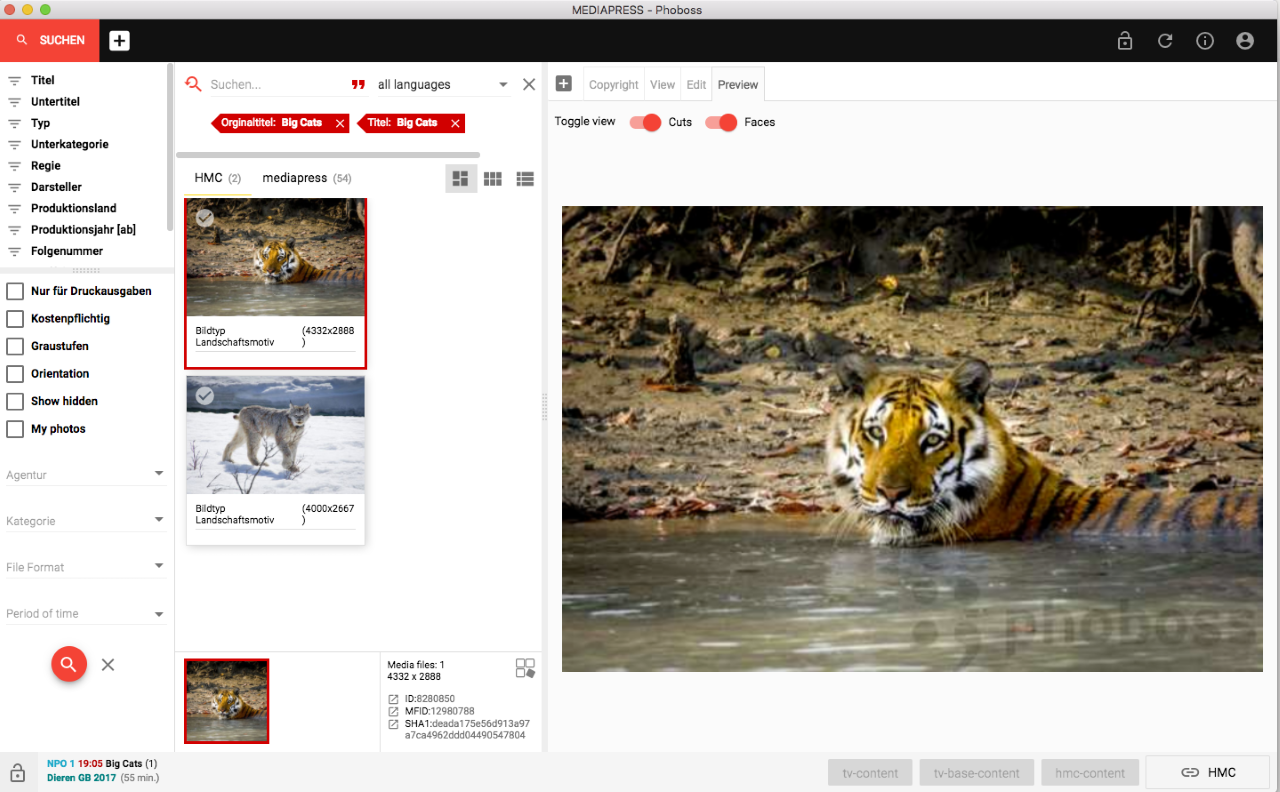 Free, but secure access
You can also edit the metadata, add commentary or collect and share pictures in a "basket" awaiting further processing. You can access your image assets in PHOBOSS either using an independent browser, CMS or directly from our text content browser EDWARD. PHOBOSS integrates into the workflow of each of these systems without disruption.
And as all the editorial content in HUBERT and PHOBOSS can be shared between groups or teams, PHOBOSS gives people access to a single asset at the same time. This works as long as individuals work on different database fields or areas, because any attempt to work on the same object will be blocked. In other words, someone can add information to the metadata, while another person makes changes (such as auto-cropping) and saves revised versions of the same image. This is very useful when editors need to make last-minute adjustments to an image.
When an editor launches the browser from CMS or directly from the document, and starts work on an image file, there could be a risk of a duplicate or similar file that has been generated by another editor working in PHOBOSS to be selected by mistake. PHOBOSS automatically protects files by linking images to the respective systems and ensures the quality of output even when editors are under time pressure to complete work in HUBERT and PHOBOSS.
Smart recognition to meet your needs
So when it comes to working quickly, maybe due to time pressure, this is why editors appreciate PHOBOSS:
Much of the tasks are completed by PHOBOSS. As soon as you import any pictures via API, PHOBOSS analyzes all manner of information that the images contain. This offers structure, and also keywords for captions which can be applied to sort pictures into groups and collections. We can use either TVMan or HUBERT to link pictures and, in the case of Media Press, attach images to millions of TV records.
If you need to add additional metadata – such as captions or mood-tags – you can do so in the multi-set editing mode. People whose job is to aggregate pictures for TV series appreciate how PHOBOSS allows them to grab a range of pictures that have been sent by a TV channel and attach the relevant season number or episode title to the batch of images in one single step.
PHOBOSS also helps editors and people responsible for exporting large numbers of image files not to fall foul of copyright usage restrictions. The system not only makes the ensuring copyright compliance more manageable, but it also identifies identical pictures carrying different copyright terms and conditions which arise from different sources and usage purposes. These versions are collated so there is no risk of infringing copyright, because PHOBOSS offers up only those pictures that are approved for publication in a particular media product.
It is worth noting that PHOBOSS is designed to handle multi-language media. Metadata can be constructed in multiple languages while preserving the uniform ID code. This enables editors to produce multi-language publications from the same source content. As modern media outlets frequently deal with multi-language content (such as subtitles or publicity material) we cater for this market as well.
In its standard form, PHOBOSS is cloud based. All that an editor needs to do is to initiate internet access to the system by downloading our jumpstart application. Once done, it is a simple question of logging in and starting the job. Some companies operate a corporate policy of not placing data and documents on cloud-based systems, in which case an on-premises installation is a practical way forward. PHOBOSS is optimized to work on standard ADSL-type internet links. It can also function on 3G or LTE connections, but if you intend to handle big media files – of course a faster connection is advised.
The "My Photo" option allows photo and graphic staff to re-open recent sessions in order to check on their work, and continue editing the files. This function saves a lot of time in case corrections need to be made or where someone new pictures need to be added to existing collections.
PHOBOSS is designed with scalability and security in mind. It is capable of managing tens of millions of digital assets at high speed. Nowadays, as media storage can quickly fill up, there is a need to support companies which store media files in private cloud storage. PHOBOSS is the tool to download, process and handle images.
Alongside its storage scalability facets, it is possible to publish media files easily and directly to a wider audience via CDN servers. Industry­-standard, elastic search based engines provide our editors with the best features – notably language awareness search, "wildcard" or "fuzzy" searches.
PHOBOSS makes your editorial dreams come true. Let's look at the list of features so far: auto­-selecting, auto­-processing, auto­-cropping, multi-filing, multi-language metadata editing, auto-normalization, visual auto-description with content classification, auto-copyright handling, versioning and auto-deduplication. What would that do for your business? Let's not forget auto-structuring of archives and auto-merging of metadata. PHOBOSS can handle reams of digital assets.
There is no need to spend any time thinking: "I wonder which picture would best fit this story?" PHOBOSS does the job in an instant. That means you can concentrate on organizing your workflow, improve productivity and help your team become even more efficient.
PHOBOSS utilizes industry standard tools and matches them to sophisticated AI-technology. Visuals meet artificial intelligence. We use PHOBOSS in our own company. Media Press is in the business of producing 40,000 magazine pages every month, and processing 25,000 pictures every day. We couldn't do without such a versatile and vital tool. Is it such a surprise that we have become the biggest provider of TV metadata in Europe? Let us help you to work in a stable and reliable environment. Before you say – "Wow, that's a lot!" – then keep in mind that PHOBOSS will delight users with the next update. There are even more expanded functions on the way, to boost productivity and enhance Digital Asset Management.
Author: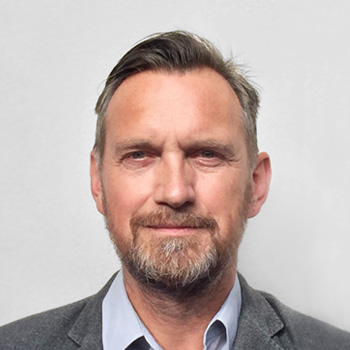 Bernhard Nieberding, CEO of Media Press Germany, made his mark at Presse Programm Service GmbH. The company became the German leader in TV Data and Listings Services, providing a host of major TV magazine publishers with editorial and TV listings content. In 2001, he developed a system for memorizing typesetting patterns in order to semi­-automize TV listings.