15 Sep

Archive
Releases 2018
2018.02.R3
For users
General
French language pack for desktop Apps
French language pack is now available for the desktop version of the apps. The language change is accessible directly in the Trampoline's (global change) and in the app's login menu (only for the particular app).
---
Choose between Hubert and Woodwing in Trampoline
If user works using both Hubert and Woodwing plugins, it's now possible to easily switch between them in Trampoline, choosing the wanted version of the Adobe InCopy or InDesign with an applied plugin. The Woodwing plugin is marked with a triangle in the left upper corner of app's icon.
This feature is functional for both Windows and MacOS and can be activated in Settings [1].
It can be found in Application settings for the chosen Adobe app version [2]
and enabled with the marked option [3]. To apply changes user has to save them [4].
Content selector (web)
The web version of the Content Selector is still in the development phase, but there're many accomplished features that could be of interest for the Hubert System users. In this release there's available a beta version for demonstration purposes.
It can be found in the Administration tab.
Copyright visualization (web and desktop)
In the previous version the yellow indicator was shown if a photo was event restricted and not associated to any issue date.
Now the issue date is designed only to differentiate between photos with the green (a photo coincides with an event) and blue indicator (a photo doesn't coincide, a channel group or source does). If there's the yellow indicator – all the factors don't coincide.
---
Widget splitter
In the web-based version of the Content Selector it's possible to change to the widget's size with the splitter. The content in the widget areas will dynamically adapt to its new size.
---
Layout type
[added] [ticket]
Using the layout type menu in the top right corner of the web-based version of Content Selector it's possible to adapt the layout to the user's needs.
There are several options to disposal, which include various number of widgets in the panel.
Content selector (Hubert)
Photo usage
Selected photos are now marked basing on layout usage (previously: on the preselection). The red frame [1] around a photo indicates if it's physically located in the layout in the current issue. The small red square [2] informs whenever a photo has been used in the layout of another product from a product group.
When it's been – it possible to see the Photo usage info by [Left click] on the square.
For admins
Web interface of Oxana
Oxana app is now available in the Profile Manager as one of its modules. The new web-based version preserved all its functionalities known from the desktop version.
---
Web interface of Automation tool
The Automation tool is now available as separate web-based app. The most UI elements have been created with an original-like arrangement with several modifications.
The Information [1] and Configuration [2] tabs have been moved to the toolbar on the left.
---
New HFS files and logs location
Due to Microsoft's decision to enable the Documentsdirectory backup to the OneDrive service by default, Hubert HFS files and logs will be moved in the new plugin version 8.0.0.206 to:
\AppData\Local\H3\
Mark file manager will recognize the new location regardless of the used plugin version, too.
This change will be effective only after the plugin update, exclusively for the Windowsplatform. In all the older plugin versions the path remains unchanged.
2018.02.R2
Users
FRED
Search by id
Record ID can be pasted into search box.
ID:123_record_id
Like this:
Record will be searched and displayed in column Search results by id
Direct record link
We make sharing record info easier.
Right-click to obtain direct link to record:
Link is copied to clipboard. You can paste it into browser (and hit ENTER)
If Hubert is running searched record [1] will be displayed in Fred.
There can be multiple searches [2]. Search results are remembered until you leave product.
Once you are in mode Search result by id [2] you can omit ID while providing record id.
---
Photo placeholder
There is a gray placeholder displayed in Fred.
Gray placeholder [1] is displayed whenever a photo can be selected.
Right-click: selected photo can be removed or re-scaled [2]
Hint: Should you miss selected photo panel [1] please check in Settings [2]
Cut preview
If you move mouse pointer over photo [1] a big preview will be displayed with cut markers [2] on it.
To make it happen check if big preview is enabled [this option]
Photo cascades
Use case
One data record can have multiple photo selections in four popular aspect ratios:
Landscape
Portrait
Aspect ratio 16:9
Aspect ratio 4:3
We show this selections as cascades.
Cascade is a collection of multiple photo selections.
Cascade = any amount photo selection
Example Cascade:
Landscape

Landscape (season)
Landscape (content)
Landscape (event)

Portrait

Portrait (season)
Portrait (content)
Portrait (event)

Format 16:9

Aspect ratio 16:9 (season)
Aspect ratio 16:9 (content)
Aspect ratio 16:9 (event)

Format 4:3

Aspect ratio 4:3 (season)
Aspect ratio 4:3 (content)
Aspect ratio 4:3 (event)
Cascade can aggregate any photo selection amount.
As there are more photos in cascade, you can remove the top-one using right-click.
Lower cascade level will be shown for "4:3" collection.
Configuration
Product Editor
Product preselections [1] can be grouped in Cascades [2] tab
Profiles
To make cascades [3] visible in Fred add those to a profile [2] in Content Selector [1]
---
Photos: full edit
Hubert Photos are trimmed to frame dimension. Due to this full photo scaling in InDesign was not possible .
We have implemented option* to perform full photo scaling.
*Option works only for Phoboss photos because to perform full scaling original photo is required.
Option does not work for photos uploaded from user' local disc.
To perform full photo scale:
Right click photo, choose [Hubert] Photos –> Unlock full edit
Uncutted original photo is downloaded to user local disk.
2. From now on user can freely change / scale the picture.
Example result:
3. As there are all photo pixels available, user can adjust frame geometry itself
Please note: If you change geometery, please perform Check-in spread
---
Phil projects
Not used phil projects older than 40 days will be deleted
Three phil project categories won't be deleted.
green DEFAULT
lightblue WORKSPACE
white PROJECT (projects there were never published)
Deleted projects are stored on server and can be restored (in case somebody deletes project by mistake)
---
Mutable frames
Mark module shows now a small indicator [1] telling about link source.
Name day
Hubert knows now when a person has its name day.
To use it in layout insert macro name day [1] and choose language (each country has its own name day calendar).
For the current moment we support finnish and polish name days.
Additional languages can be implemented on demand.
Parameter descripton:
Tag: Name day [1]
Format: person count
Language: Finnish | Polish
Separator [2]: this is separator for names
Macro "short issue year"
Added new macro %SYEAR_ISSUE% [2]. It expands to short issue year (2018 —> 18)
New macro is just a shortened version of %YEAR_ISSUE% [1]
Font libraries
We have implemented in Hubert a feature called Document fonts*
Required fonts are bundled into font libraries and downloaded on page sync to user workstations.
Fonts are active only temporary – as long a given spread is open.
Configuration
Product can have a font library assigned including all fonts required.
In Mark module, under Product Libraries [1] there is new library category Fonts [2]
This is the place to upload all required product fonts for given magazine.
Use
While user opens a page from Hubert, font library is saved to /Document Fonts on user' hard disk.
How it works
Quotation: If you put fonts in /Document Fonts and that /Document Fonts folder lives in the same folder as the .indd file, InDesign will automatically activate those fonts when the InDesign document is opened.
*Source and read more: https://indesignsecrets.com/easy-font-activation-using-document-fonts.php
---
Admins
Performance
Edward
Edward performance is measured by time user has to wait for operation to complete.
To have a better overview of Edward [1] performance we collect more data.
Keyword here is Performance [2]
Under Duration column you will find execution time in ms. Highlighted value [3] means that listing tab loading time took 5863 ms —> almost SIX seconds.
Preselection parameters
GetPreselection [1] selector was equipped with new parameters [2] to retrieve more information about preselected photo.

Now you can ask for:
[1] mediafile or mediarecord id
[2] cut parameteres
FCA
Filters
Until now a FCA filter was able to cope with BOOL field type only.
We introduce syntax constructor that allows you build logical condition on any field type.
Find below how syntax constructor looks in UI:
Some new field operations:
STRING eq, is null, contains, begins …
INT eq, >, >= <, <=, !=, is null
BOOL eq / true / false / null
Python: GetPhotoSelections
There is a new function in Python syntax available. Function returns selected photo count for a given record in a given preselection.
Func: GetPhotoSelections
returns collection ContentRecordPhotoSelection which contains PhotoId also
Profiles
In iteration 2018.02.R1 we started to rewrite Profiles to browser-based technology. In current release subsequent profiles have been rewritten – those are marked in screenshot.
---
Oxana
Re-export selected channel(s)
Re-export selected channel(s) is now possible.
Imogene
Imogene uses PhoBoss picture database [1] to generate posters basing on different templates [2 i 3].
Workflow Status
In filter pane [1] you will find rewritten Workflow Status [2] module
Workflow Status presents status overview for all issue weeks
Cut definition
Original photo can be trimmed. Cut aspect (eg 16: 9) can be defined in preselection.
Preselection equipped with Cut parameter can be selected later in Imogene.
2018.02.R1
For users
Printshop
Display PDF file before sending
PDF files needs to be viewed before sending them to printshop.
Page status [1] informs that you need to display [2] final file in browser to unlock envelope icon [3]
Described feature is optional and by default inactive.
Option [1] can be activated for specific output type [2] Screenshot for admins
---
Typesetting errors
For every page we check for typesetting errors, such as:
[1] empty frame
[2] underset
[3] overset
If any errors were found then the number is displayed on red background.
---
Typesetting errors check
Above informative warning can be overseen.
So we implement additional security level.
Once PDF file is generated page status [1] will turn RED if any empty frames, underset or overset is detected.To unlock send possibility (envelope icon) [3] these errors should be ignored [2] by user
Described feature is optional and by default inactive.
Option [1] can be activated for specific output type [2] Screenshot for admins
---
Required conditions
Required conditions for page to be send:
page status (closed)
pagination set
no PitStop error or ignored
no Preflight errors or ignored
Optional conditions
Optional conditions for page to be send:
final file needs to be opened before [new feature]
no empty, overset or underset frames detected.
Unless those errors were ignored [ [new feature]
---
Automatic versioning
If a file is send multiple times we can add automatically a postfix indicating sent file version, for example:
page34_ver2.pdf
Send to printshop dialog:
Sent file can be automatically postfixed with _neu or other postfixes.
Example A
page.pdf (first delivery)
page_v1.pdf
page_v2.pdf
page_v3.pdf
Example B
page.pdf (first delivery)
page_neu.pdf
page_neu2.pdf
page_neu3.pdf
Versioning can be configured by administrators team.
---
Issue Manager
Preserve date
After leaving Issue Manager and switching into data mode (FRED) user usually wants to keep selected day.

By toggling option [1] selected date [2] will be preserved during the switch.
Hubert Plugin
Paragraph auto-tune
Some lines can be very short [1] Paragraph auto-tune can adjust line length by applying tracking. Text block will be highlighted shortly.
Example
OFF                                                  ON
To activate option choose Hubert Plugin > Paragraph auto-tune
Keyboard shortcuts
Auto-tune can be also executed once frame is filled.
Commands
Paragraph auto-tune in selected story
Paragraph auto-tune in document
You can find those in InCopy > Edit > Keyboard Shortcuts
Example assignment:
Phoboss
Autoquote
Search phrase can be "quoted" automatically. Button state [1] is saved in user preferences
OLD                                                               NEw
Cuts & Faces
Cut selection and face detection can be done in separate tab [1]
Selected cuts [2] and indicated persons [3] will be a big help to editors in later production stages.
Access to Cuts & Faces is regulated by dedicated permission (UAC).
Close panel
Having too much panels open? To close single panel:
drag and drop it beyond window:
right-click it (Close Tab)
To close all panels click on plus [1] and choose last option [2]
FRED
Selected photos
A record can have multiply photo selections. Small improvements in user interface were made.
There is some white space [1] between photos. And small diamond [2] informs about photo selection.
Loading performance were also improved.
EPG Selections
In Content Selector you can create photo selections for EPG.
For non-layout (EPG) selection there is auto-scale [1] button. As non-layout photo selections can contain multiple photos there is also photo index [2] displayed on diamond.
Profile
Content Selector profile defines visible columns and rubrics. Until now profiles were accessible in separate tab.
We have moved profiles into foreground. To edit profile click on pencil icon [1]
Content Selector Profiles will open in browser [1]
In central part [2] you can pick profile to edit.
In right panel [3] you can set column visibility and rubrics.
Access to Profile Manager is regulated by permissions.
If you don't have access or have problems with it please contact administrators.
Edward
Atomic button
Atomic button can apply automatic modifications. we have changed slightly operation sequence (first remove, than add). This change should prevent style spoiling during applying modifications.
Graphic Designers
Automatic versioning
Sometimes a file has to be send to printshop multiply times. A postfix indicating version is required.
page34_v2.pdf
Until now it was user responsibility. We can automate it with macro.
Examples
Example A
page[_v%VER%].pdf
Only one [ ] section in file name. This is a default section and defines postfix for every version higher than 0.
Macro will return following file names:
page.pdf
page_v1.pdf
page_v2.pdf
page_v3.pdf
Example B
page[1:_neu][_neu%VER%].pdf
First section [1:_neu] defines first version prefix.
Next section is default one and will affect every version – except defined ones and version 0.
Macro will return following file names:
page.pdf
page_neu.pdf (due to [1:_neu])
page_neu2.pdf (default section)
page_neu3.pdf (default section)
Background
Postfixes are to be declared in section [ ]
[n: something] defines postfix for specific version.
Macro %VER% returns file version (index).
Hint: we count versions starting from zero [0:]
Second delivery is version one [1:]
Admin
Create online product
To set up an online product quicker we have implemented a creator.

Two functions are essential:
[1] Create area based on existing one. This function copies all permissions to different FRED components (schemas, filters, rubrics etc.) It is a real time saver.
[2] Channel import from CSV file
Web Profiles
Profile Manager has been adapted to web-based technology and can be launched from Trampoline.
Application access has to granted in UAC (Aloha_App_Profiles_Manager)
Old Profile Manager (profiles in tabs)
New user interface
Currently available profiles are below in bold
Access
Profile access is set in UAC.
* Aloha_Module_ProfilesManager_ContentSelector
* Aloha_Module_ProfilesManager_Grid
* Aloha_Module_ProfilesManager_Search
* Aloha_Module_ProfilesManager_Links
* Aloha_Module_ProfilesManager_Filters
* Aloha_Module_ProfilesManager_Exports
* Aloha_Module_ProfilesManager_Modifications
* Aloha_Module_ProfilesManager_GroupingProfiles
Visualisation editor
Overwrite value
Mapper fields returns values. Values can be overwritten by any icon. Example:
Field age_restriction returns value from range 4-17
Goal
Every number should get its own symbol.
How to
In visualisation editor:
you can add new override [1]
Here [2] you can define value to be overwritten and pick icon [3] to overwrite with.
XML alias
Rubrics and preselections: we removed XML alias from interface. One less to go!
Photo preselection
Crop mode
In Hubert you can create diverse photo selections for EPG exports.
In photo selection properties you can set how to crop selected photo.
Options:
Layout (no surprise, photo dedicated for layout use)
No cropping (photo is exported as original)
Fixed aspect (photo will be cropped to proportions)
Fixed size (photo will be cropped to given size in pixels)
Parameters
Depending on crop mode parameters will vary:
Max photos [1]
For crop mode = layout one selection can be made (one layout frame)
For other modes you can set maximal photo amount.
Cropping frame [2]
For fixed aspect mode you input here proportions (16/9)
For fixed size please input pixels (1920/1080)
Upscale limit [3]
Determines how much photo can be up-scaled.
2018.01

Trampoline
Log-in
Trampoline log-in window was visually revamped.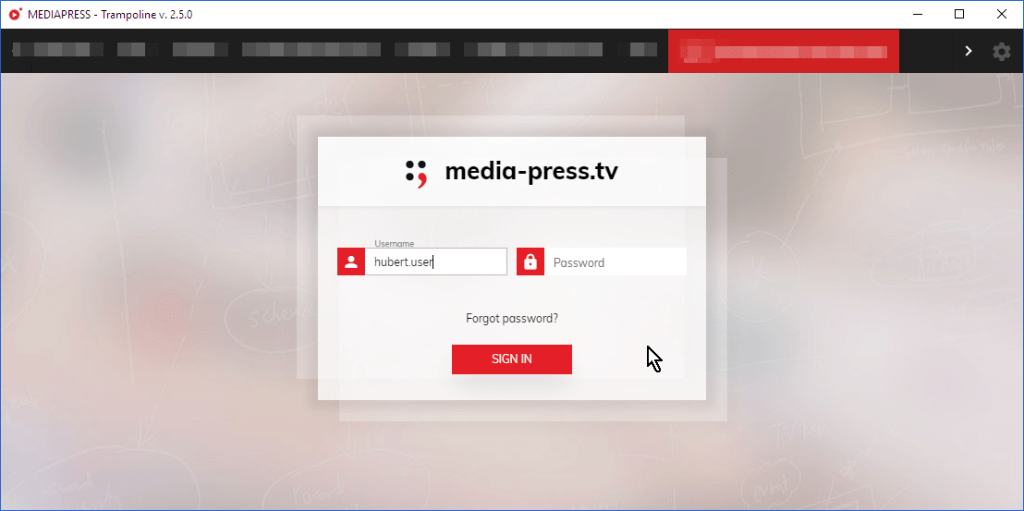 Provided password is forwarded to Hubert and other hubert.systems applications.
There is no need to input password twice anymore. Checkbox remember me disappears from interface.
Photo search
User interface were revamped. Search and upload tabs [1] remains.
There are two main sections: navigator [2] and photo properties [3]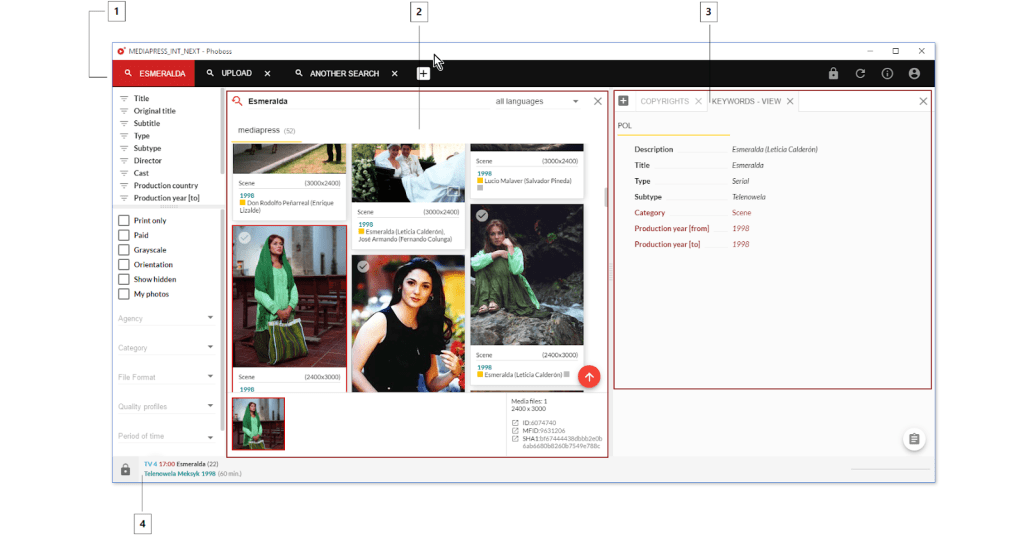 At the bottom edge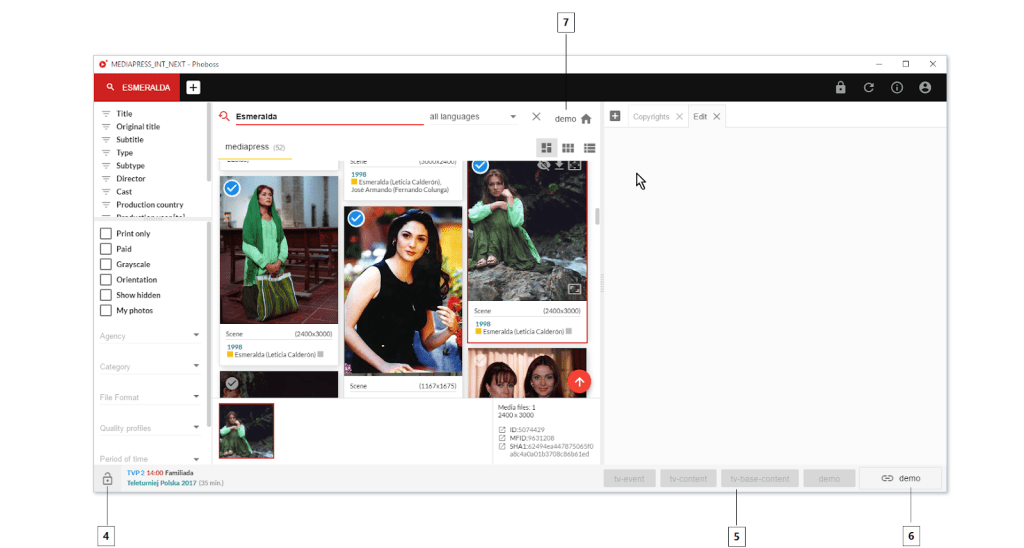 [4] request context
[5] actions (attach photo)
[6] upload & attach area
And edit area [7] above.
Right panel
Right properties panel is configurable. By enabling tabs you can define its layout.
Add tab
Here you add a new tab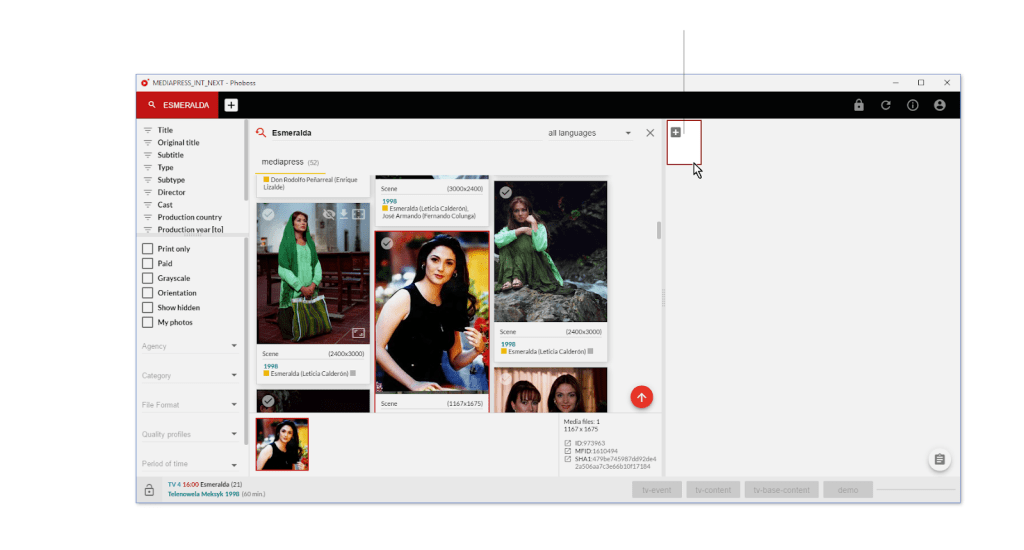 A tab can be opened in existing panel [1] or in a separate one [2]
Layout
Example layout: Photo properties shown in two panel [1] and [2].
By dragging the splitter [3] area per panel can be balanced.
Tabs description
Basket
Selected photo [1] can be found in photo basket [2]
For photo in basket following action can be taken:
download [3]
place into InDesign [4]
attach to record [5]
Copyrights
Copyrights tab [1] reveals info about photo source, channel, creator/author.
New copyright set can be added by clicking plus [2]
Keywords
We separated editing from viewing. Hence two separate tabs.
Photo upload
Right panel
Properties of uploaded photos can be edited on tabs. The right panel layout is also configurable.
Attach & upload area
While inserting photo into PhoBoss database user defines:
Usually user wants both areas to be identical. Therefore we merge them in user interface.
By clicking [1] you can define upload & attach separately.
Arrow indicated by [2] will show areas to which user has permissions only.
Upload as new
Uploaded photo will be put into separate, isolated media record.
Always on top
Photo search window can be pinned (padlock) to be on the top always.
Edward
Add multiple records
Multiple record selection is possible. Press indicated plus. Multiple programs will be inserted into column
InCopy
Mutated frames
Prior to editing mutated frame content, one had to check out frame itself (in structure view).
This preparation step is not required any longer.
By attempt to edit a mutated frame you will be given following choice:
Edit in parent [1] (default)
Parent document will be opened, check-out on parent frame
Disable mutation [2]
Mutation for current frame gets disabled. Check-out on current frame
Edit in parent
Take a closer look:
Check out
User choose Edit in parent
3. Parent document is opened (screenshot, depicted on the right) and text cursor is placed at same record.
Issue Manager
JobsViewer Lite
Alarm clock [1] lists user' tasks from current product [2]
You no longer need to switch to old task viewer.
Right-clicking a job gives following options:
run it again
display micro log
Photo scaler
Background in photo scaler window does not sting in the eye anymore.
Current background while loading photo: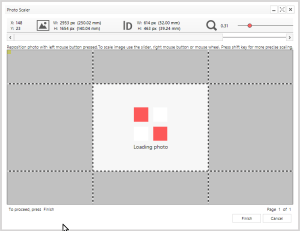 Eye-dazzling colours are gone.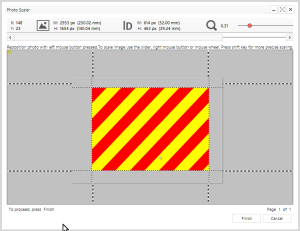 Product-Wiki
A product may have its own wiki describing deadlines, contact persons and other.
We have implemented a new editor for this product wiki.
Some features:
Styles (headings, bold, italic) [1]
Cats can be inserted by drag&drop [2]
hyperlinks support [3]
Paid photo report
Generation of paid photo report [1] is a long-term process.
For user comfort we have moved this process into background [2]
Page structure
Additional infos
In the red-rimmed place we show technical identificators. And yes – you can copy (CTRL+C) those.

Show frames without selected photos
Sometimes frames without a selected photo are covered by other layout elements.
We have added a button (encircled in screenshot) to pull those frame to foreground.
Compare off [1] and on [2] states in the below screenshot.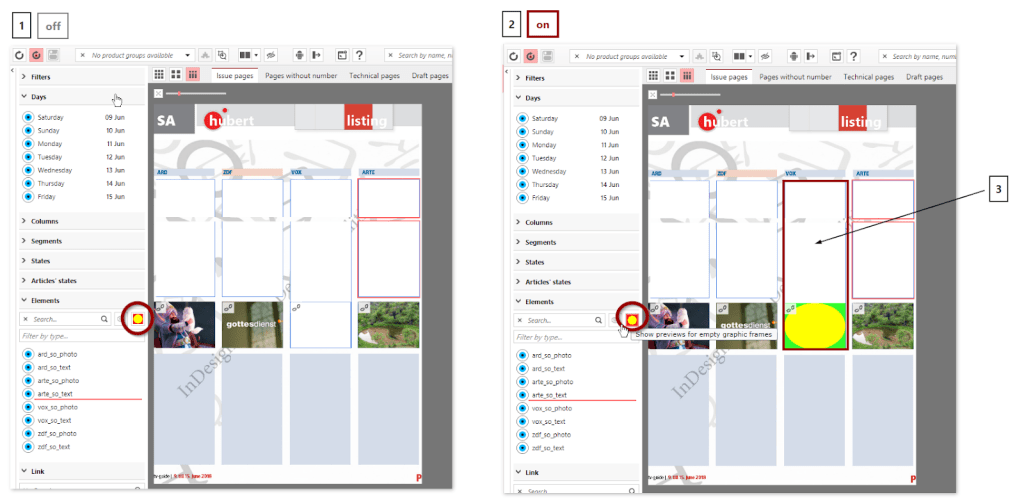 [1] OFF: frame without a photo not visible
[2] ON: photo frame visible
[3] layout element covering photo frame
Keyboard shortcuts
We have added new keyboard shortcuts for toggling photo frame visibility.
Current shortcuts are (bold = new)
Tab toggle all frame visibility
Alt + Tab toggle photo frames visibility
Shift + Tab toggle non-photo frames visibility
Give them a try.
Remove photo
Photo inserted from user local disc can be now removed.
Go to structure and right-click photo frame.
Photo variant
In element history we show clear and plainly that the retouched photo variant replace original photo.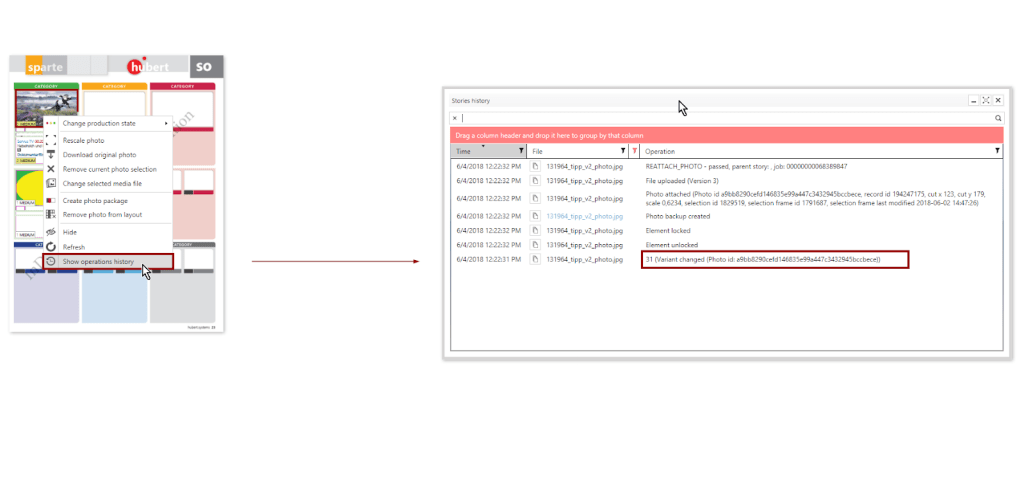 FRED
Search
Search got simplified. Search box [1] is now visible always.
[2] search mode
[3] items to be searched (collapsible)
[4] search range
Rabbit mode
Default search mode is rabbit mode [1] (also known as quick search)
Quick search mode will return results containing search query.
Example 1
Search query Tages [2] will return results containing "Tages"
Tagesschau [3]
Tagesthemen [4]
Example 2
Search query ages [1] will search for "ages"
Two records contain phrase "ages":
Tagesschau [2]
Tagesthemen [3]
Simple mode
Search routine in simple mode:
search entire phrase (phrase searching)
search for first word [1]
search for second word [2]
Example:
Following three search words build up a search phrase:
First search attempt returns "full match" (Wetter vor acht).
Further search attempts searches for words separately (therefore "Börse vor acht")
Result sorting
In simple mode search results are sorted by relevance [1]. Best hits are displayed at the top [2].
Keywords
Keyword mode [1] is still available. List of searchable keywords is configurable [2].
Using keyword mode we can search among all emissions [1] for Forrest Gump movie [2]
Pay attention to search range [3] which is set to blue – search in all data available.
Advanced mode
We leave to your disposal advanced mode [1]
Using it you can build complex queries like: search in all emissions [2] for specific serie episode number [3]
Search range
Search range defines how wide search scope should be.
Languages
This combo defines search languages and language for result values.
Rubrics
Selection time span
By hovering rubric symbol you will see record selection time range.
Example: you browse a range channel mit VOD (200 movies). You are browsing it from week time span (4-10 July). You pick a record and add it to rubric. Tooltip will show 4-10 July.
Photos
Turn off filters
Yellow bar informs that some filter are active and therefore not all photos are visible.
At the marked place you can disable filters.
Area color
A photo has its native area. We distinguish areas by adding background color (set in Phoboss Admin)
Change media file
In content selector you are given with an option to exchange a media file.
Alternatively you can do it in structure view.
Post navigation
Releases 2016
In this major Hubert release we introduce Trampoline – the startup module for entire Hubert system family. We also introduce new photo search engine returning immediate results, improved photo upload, extended photo filter possibilities, and media record to reduce photo data amount. We have integrated detailed view into Issue Manager to manage page elements and we introduce articles and provide control over article production state within InCopy level. We integrated pagination and layers management into Issue Manager also. To quickly find certain page a search box was developed. Filter possibilities were extended by regional version. For administrators we have built management utility from scratch – User Access Control and we introduce Phoboss administrative panel to manage photo quality filters, keywords and color profiles.
---
In this major release of Hubert system we introduce completely new search engine, native support for advertisement placing, access to the backup PDF versions of the pages, new robust grid configuration in Content Selector and powerful preview of the pages in the Issue Manager. We also introduce the new checks before page is sent to the printshop, server-based printout of the pages and a handful of usability improvements throughout the system. On administrative side we introduce global CS profile management, revamped and simplified LACD configuration and a lot of other new features.
---
In this release we unveil the second generation of our new Issue Management module with a lot of additional features and optimizations. There is also new filter panel in Content Selector, allowing you to group long lists of filters and negate the filters. There is also couple of optimizations within the record editing and rubric selection workflows and new, enhanced report about paid photos. However most of the changes in this release is connected to user management and permissions – we now have a brand new, web-based user management module and more straightforward system of assigning the rights. We have also made it easier to manage the content selector filters visibility, there is a new mechanism of initializing new record content and configuring the report about paid photos.
---
Releases 2015
In this release: brand new and reinvented issue manager in Hubert. New, simplified rubric synchronizer. Searching for links directly from editing form. Manual refresh of record list in Content Selector. Additional options for editing the data from Media-Press stream (for customer-own installations only) and reverting them. And last but not least: Hubert plugin now automatically switches between Hubert installations. For admins: simplifications and new options in LACD, new options in editing forms, simplified management of linking profiles and modification filters, enhanced support for VOD-like channels and brand new export interface Oxana.
---
In this release, besides of the bunch of bug fixes and performance optimizations, we deliver couple of interesting new functions. Users can now edit the data directly from new panel in Edward, in context of the InDesign/InCopy production. This release also includes a lot of changes and improvements in the Phil area: possibility to define tags on global level, import and export of export definitions, possibility of denormalization of field sequences and more. This release also introduces the new concept of story type.
---
This release is mainly the bugfixing release but we have managed to deliver some additional functionality. There is now a new column in Content Selector showing the photos selected for the record, you can search and upload photos to the record in Edward and the photo placement in InDesign has been streamlined. There is also the new type of photo mutation to support bulk photo selections for multiple products and new mapping selector to make it easier to place the legends in the layout.
---
A lot of UI improvements in Issue Viewer, Tina and Content Selector. Multiedition of photo metadata. Vastly improved Package Manager module for easier photo correction. Data forks for independent data editing. For admins – improvements in Mark and Visualisation Editor, Phil is now able to generate ICML tables with content and virtual frames for preselection of photos for Web.
---
In this release: new, quicker Edward, a lot of enhancements in Detailed view of Issue Viewer – easy rubric operations and jumping between parent and child in the mutation. Multiselection and other enhancements in photos and additional control of the mutation jobs before your pages are prepared for final output. For Admins: new, rewritten Phil output provider for ICML, total control over modification presentation, permissions on the schema fields, read-only access to the system, new rubric type, new channel types and rewritten definition of data searching.
---
Releases 2014
This release brings a lot of improvements in the area of photo display and selection. It also brings revamped InDesign/InCopy keyboard shortcut synchronisation, brand new bulk record copy and move operations, further enhancements in the project publishing mechanisms in Phil, new native Hubert 3 typology mechanism and alternative, easier regional channel handling. It also bring a lot of performance related improvements and bunch of bug fixes.
---
In this release we introduce a couple of new major functionalities – there is a new keyboard layout synchronization feature in Hubert plugin, editing forms can be automatically filled in with data, Phil projects are finally published and versioned to give the Admins a better control over the changes. Also the Visualisation Editor has been improved. We also introduce a couple of experimental opt-in features like the cache in Edward to speed up the refreshes and new rewritten Mark 3.5 module with extra options. Plus of course a lot of bugfixes and performance improvements in different areas.
---
In this release: completely rewritten photo upload module – now with automatic photo description, enhanced workflow status overview, downloading of the output file in Issue Manager, new forms active also in the grid view of Content Selector, photo upload scripting and the products with the mutation switched off by default.
---
In this release: completely rewritten and redesigned form subsystem, ticketing system (Mantis) integration in Hubert and Edward, manual download of files from graphic libraries, easy pagination in Issue Viewer, safe paragraph mode in plugin, filters on photos (attachments), new technical view of the record and more.
---
In this release: New condition set palette in Edward, deleting the user comments, condition set grouping, default values of fields, fast field based filters, new alerts in Longinus and a lot of bug fixes and performance improvements.
---
W tej odsłone systemu wprowadzamy zmiany w widoku modyfikacji (Edward), wprowadzamy grupowanie modyfikacji, nową obsługę stylów InDesingn'owych, możliwości eksportu/importu fragmentów drzewka Philowego. Przyspieszyliśmy również system i zwiększyliśmy również jego stabilność.
---
In this release: major change in the visualisation of modifications in Edward – simplified view, new commenting subsystem in Hubert, hiding the "gray" changes in Edward, direct jump from Edward to the record in Content Selector, enhanced adding/removing of the records in Content Selector and new data matcher for matching/linking the user data with media-press data. What's more – Hubert system becomes scalable in this release – couple of Hubert servers can now concurrently creating the farm of servers.
---
In this release: multiselection in condition sets, control over automatic tags in Edward, directly placing photos on the InDesign page, safe tag mode in plugin, safe reframing of the photo in mutated products, library of graphical elements available in Edward, preselection mutations and many many more. Plus of course a bunch of bugfixes.
---
In this release: joining/splitting records in Edward, "Do All" buttons, unmutate/remutate/mutate buttons for segment and issue, photo tab in Edward now can float, redesigned Issue Manager grid with new options, new mapping editor, selector for getting the info about record's history and massive performance enchancements.
---
In this release: quick synchronization mode for quicker InDesign page opening, library of graphical elements to organize the frequently used banners and icons, photo preselection synchronization, floating rubric panel, filtering by layout type in Content Selector, enhancements to photo handling in details view of Issue Viewer, improved links tab in Content Selector, redesigned Job Viewer and more. Plus of course bug fixes.
---
Releases 2013
In this release: new, redesigned panel with texts in Edward, column snippets to insert non-standard elements into the column, checking the whole layout out and in, automatic tags in InDesign, virtual rubrics and accessing the Live Archive contents from the mapper. Plus bugfixes and backend optimizations.
---
In this release: mainly heavy optimizations and bugfixing. A lot of things were changed in the backend of the system but these are usually not seen by the user directly. For system administrators we have added the possibility to recalculate ShowView codes in the Tina python scripts.
---
In this release: photo preselection concept – revolution in photo handling in Hubert, new rubric selector panel, rubric synchronization improvements, python modifiers in Tina to handle non-standard customer needs, definition of the column ordering, automatically sorted rubrics, visualisation groups to define the visualisations per product and much more.
---
In this release: export of the columns on server – in the background, improvement in photo selection visualisation, new type of story mutation (dynamic mutation) and full fledged editor of the EPS and JPEG export settings in Mark module. Plus other enhancements and bugfixes.
---
In this release: floating, pinnable windows in Content Selector, layout type and sort synchronization, support for InDesign anchored objects – floating photos and frames, filtering of the record history, batch downloading the selected photos, dynamic layout synergy, default template in the dynamic layout and much much more.